About Us
Plenty is a Italian takeaway in Hampton. Why don't you try our Tomato Pesto or Diet Coca-Cola?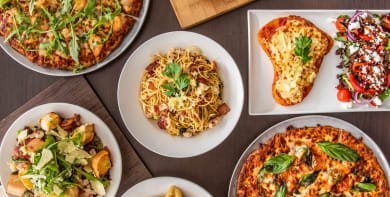 Reviews
101 reviews
Michael
"Pizza was delicious. Amazing crust - was off the chain!"
16/04/2021
Sam
"Amazing as always. And well done on cutting plastic to the new eco boxes."
02/04/2021
Jonathan
"Excellent quality pizza"
30/03/2021
Peter
"The food was good as usual."
20/03/2021
Menu
Montepulciano, D'Abruzzo, Italy
£13.50
Nero D'Avola, Andrero Italy
£17.00
Chenin Blanc, Cape 312, South Africa
£14.50
Pinot Grigio, Ai Galli, Italy
£16.00
Sauvignon Blanc, Los Pastos, Chile
£14.00
Trebiano, D'abruzzo, Italy
£13.50
Pinot Grigio Blush, Ai Galli, Italy
£16.00
Pago Bottles Juices Peach
£2.00
Pago Bottles Juices Cranberry
£2.00
Pago Bottles Juices Apple
£2.00
Pago Bottles Juices Orange
£2.00
San Pellegrino Blood Orange
£2.00
Home Made Bread
Served with olive oil & balsamic vinegar
£3.00
Mixed Olives
Marinated in garlic & mixed herbs
£3.50
Garlic Bread
Pizza bread with tomato & garlic oil
£6.00
Tomato Pesto
Pizza bread topped with tomato & pesto
£7.00
Focaccia
Pizza bread with garlic oil & rosemary
£6.00
Bruschetta Napoletana
Crispy home made bread topped with tomato, garlic & basil
£6.00
Insalata Tricolore
Mozzarella, tomato, avocado, basil & olive oil
£8.00
Insalata Caprese
Tomato & mozzarella salad
£6.00
Antipasto Misto
Mixed cured meats served with home made bread
£8.00
Antipasto Vegetariano
Mixed roasted vegetables served with home made bread
£8.00
Gamberoni All'aglio
Prawns in garlic & chilli sauce served with home made bread
£9.00
Calamari
Deep fried breaded calamari rings
£9.00
Ravioli con Ricotta e Spinaci Sage Butter
home made ravioli
£12.00
Ravioli con Ricotta e Spinaci Tomato Sauce
home made ravioli
£12.00
Penne all'Arrabiata
Penne with tomato garlic & chilli
£10.00
Spaghetti Carbonara
Spaghetti in creamy sauce with bacon, egg & parmesan
£11.50
Penne al Pesto
Penne with home made traditional basil & parmesan sauce
£11.50
Penne Puttanesca
Penne in tomato sauce, anchovies, capers, olives, oregano, garlic, chilli & red wine sauce
£12.00
Linguine al Pollo e Funghi
Linguine in creamy sauce with chicken, mushrooms, garlic & white wine
£12.00
Linguine ai Frutti di Mare
Linguine with seafood in garlic & white wine sauce
£12.50
Penne alla Matriciana
Pancetta & onion in tomato sauce
£11.50
Penne al Salmone
Penne with smoked salmon in cream & vodka sauce
£13.50
Linguine al Granchio
Linguine with crab, cherry tomatoes & chilli in garlic & white wine
£13.50
Linguine ai Funghi Porcini
Linguini in creamy porcini mushroom sauce
£12.50
Margherita
Tomato, mozzarella
£10.00
Funghi
Tomato, mozzarella & mushrooms
£10.50
Napoli
Tomato, mozzarella, olives, anchovies, capers & oregano
£11.50
Vegetariana
Peppers, mushrooms, onions
£12.00
Capricciosa
Tomato, mozzarella, peppers, ham, anchovies, olives & egg
£11.50
Regina
Tomato, mozzarella, peppers, ham, mushrooms
£11.50
Quttro Stagioni
Tomato, mozzarella, mushrooms, pepperoni sausage, ham, artichokes & olives
£12.00
American Hot
Tomato, mozzarella, peppers, pepperoni sausages & chillies
£11.50
Hawaiana
Tomato, mozzarella, pineapple & ham
£11.50
Calzone
Roled pizza with tomato, mozzarella, ham & mushrooms
£11.50
Calzone Diavola
Mozzarella, pepperoni sausage & olives
£11.50
Marzio
Tomato, mozzarella ball, cherry tomatoes, parma ham, parmesan rocket
£13.50
Fiorentina
Tomato, mozzarella, spinach, egg & garlic
£11.50
Quattro Formagi
Tomato & mix of four cheeses
£12.00
Tonno e Cipolla
Tomato, mozzarella, onions, tuna & olives
£11.50
Panna e Salmone
Mozzarella, cream, smoked salmon & chives
£13.00
Profiteroles in Chocolate
Portion of 3
£4.00
Portion of Home Made Tiramisu
£4.00
Contact Us
Find Us
135 Station Road, Hampton, TW122AL